Bank Interviews with VirtualBankConference.com
Explore The World of Bank Investing via 1:1 Interviews
Join Virtual Bank Conference founders Julienne Cassarino and Ian Green as they go in depth with featured community bank and banking industry executives to learn more about the industry, community bank franchises, how each bank manages capital, and the outlook for earnings.
Interview With Jay Hatfield on the Economy, Bank Preferred Stock and Commercial Real Estate
Mr. Hatfield is CEO of Infrastructure Capital Advisors and is the portfolio manager of the InfraCap Equity Income Fund ETF (NYSE: ICAP), InfraCap MLP ETF (NYSE: AMZA), Virtus InfraCap U.S. Preferred Stock ETF (NYSE: PFFA), InfraCap REIT Preferred ETF (NYSE: PFFR) and a series of hedge funds. He leads the investment team and directs the company's business development. Jay Hatfield is also portfolio manager for the Infrastructure Macro (Macro Fund) Income Fund, LP. In 2021 the Macro Fund received a top ten performance ranking award, in the long-equity biased category by BarclayHedge*. >>
Jay D. Hatfield Bio (pdf)
In this interview, Jay discusses commercial real estate, the economy, inflation, and interest rates, and investing in bank preferred stocks. >>
Download Preferred Stock Primer Retail (pdf)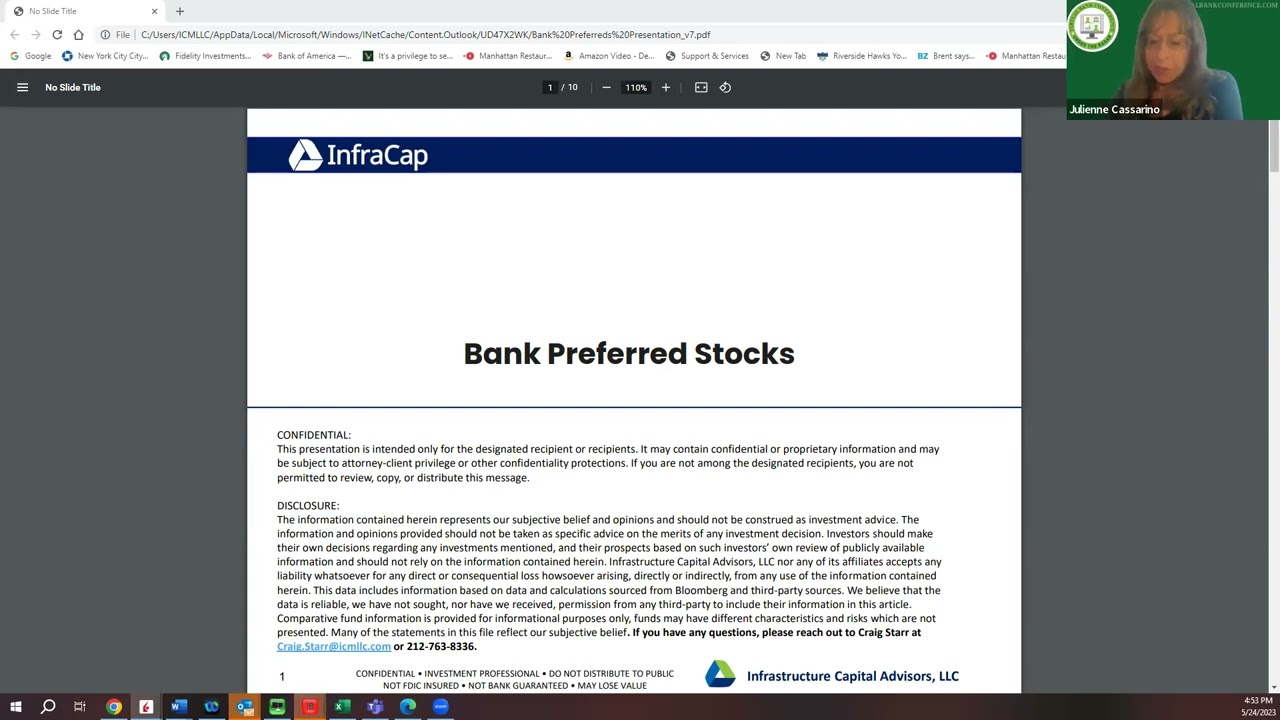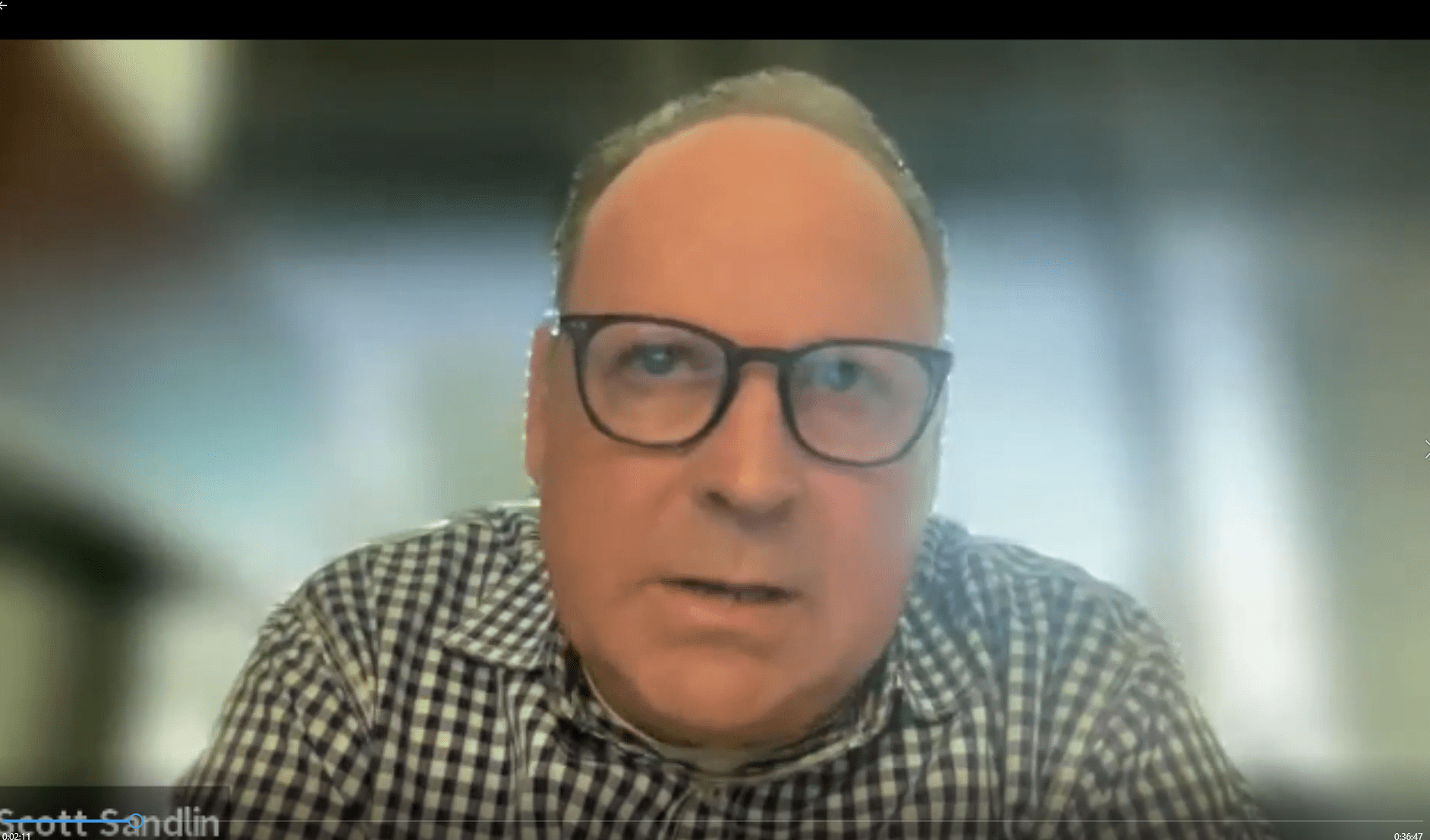 White River Bancshares Co (WRIV)
White River Bancshares Co (WRIV) Chief Strategy Officer speaks with Julienne Cassarino and Ian Green from VirtualBankConference.com, updating them on the bank's successes since June 2021.
White River is back with a follow up interview since presenting at our
June 202`1 conference
. This Northern Arkansas bank is at the center of a dynamic growth region of the country. It has been capitalizing on the growth trough various technology initiatives and branch expansions. An exciting new development is their strategy to reach a growing Hispanic population in their area. The interview discusses the bank's strategies, its outlook, the state of its construction loan book, and its capital management. For more information about White River Bancshares Co,
download Julienne's EBMT at-a-glance stats
.
Eagle Bancorp Montana, Inc. (EBMT)
Listen to
Pete Johnson CEO
and
Laura Clark CFO
from
EBMT
discuss their recent merger with Julienne Cassarino and Ian Green.
Eagle Bancorp Montana, Inc. (EBMT) has been active since presenting at our
Under the Radar Virtual Bank Conference
with a 28% dividend increase, a Dutch Auction for 3.7% of outstanding shares, and their largest acquisition to date of $377m First Community Bancorp, Inc. (Private) in eastern MT giving EBMT 32 branches in a state with increasingly strong demographic trends. This also makes EBMT one of the few publicly-traded banks in the country with a meaningful loan book of Agriculture (20% of total loans pro forma).
Please watch our interview for insights on pro forma metrics, capital management, growth opportunities, and a primer on Ag lending.
For more information about Eagle Bancorp Montana, Inc.,
download Julienne's EBMT at-a-glance stats
. You can also
download EBMT's presentation about their recent merger
. To access EBMT's presentation from the June 8, 2021 event,
visit Past Events
.
Lake Shore Bancorp, Inc. (LSBK)
In this 57:11 minute interview,
Lake Shore Bancorp
's executives
Dan Reininga
and
Rachel Foley
join Ian Green and Julienne Cassarino to discuss community banking, the Lakeshore Bancorp franchise, credit and loan demand, capital management, earnings power, and outlook.
Please join us in taking a closer look at
Lake Shore Bancorp, Inc. (LSBK)
.
LSBK is a $711m asset, 12 branch bank in the greater Buffalo MSA. Their deposit franchise features 20% interest-free deposits and a cost of total deposits of 40bps. The loan book is 45/55% consumer residential/commercial with 20% of loans in multi-family. LSBK's market cap is $84.5m with 63% of the stock owned by the mutual holding company (MHC). Should LSBK decide to sell the MHC stock at the current stock price of the traded stock, LSBK stock would be trading at 64% of fully-converted tangible book value and would have over 17% capital-to-assets. As a partially-public company, LSBK has not done acquisitions, has been repurchasing shares and pays a strong dividend of almost 4%.