Past Bank Conference Events
"Under the Radar" - the Virtual Bank Conference Where Banks and Investors Come Together to Explore Opportunities
Explore past virtual events and conferences.
Virtual Events Detailed Below
: Tuesday, December 6, 2022 - Credit Unions and M&A
Conferences Detailed Below:
September 13, 2022 - Under the Radar June 8, 2021 - Under the Radar
Credit Unions And M&A Tuesday, December 6
Derek Szot - Piper Sandler
Derek Szot
is a managing director in the financial services group at Piper Sandler, and its predecessor Sandler O'Neill.
He provides strategic advice primarily to depository financial institutions throughout United States.Derek has significant experience working with credit unions and mutual savings banks. This includes capital planning within the credit union and mutual structures, the conversion process where merited (including both credit union to mutual and mutual to stock company), and post-conversion capital management
strategies. In addition, Derek has an extensive background in mergers and acquisitions with particular expertise in financial modeling and helping clients assess the impact of various strategic alternatives to their base operations.
Before re-joining Sandler O'Neill in 2004, Szot was co-founder and principal of Y-Merge, which was acquired by SNL Financial (S&P Global). He originally joined Sandler O'Neill in 1993.Szot is a graduate of both the Wharton School of the University of Pennsylvania and Columbia University.
Derek Szot from Piper Sandler addressed the following topics:
• The history of CU-bank deals
• Drivers of CU acquisitions
• Deal metrics
• Deals that did not go through and why?
• Any predictability-what to look for in bank targets?
• Are credit union to mutual bank conversions dead?
• What is the Liquidation Account for converted mutual targets all about?
• Regulatory environment for CU-bank deals
September 13, 2022 - Under the Radar Keynote Speakers:
Janney Montgomery Scott LLC
Mike has more than 29 years of financial services experience, with deep expertise in mutual-to-stock conversions. Topic: The current mutual bank conversion landscape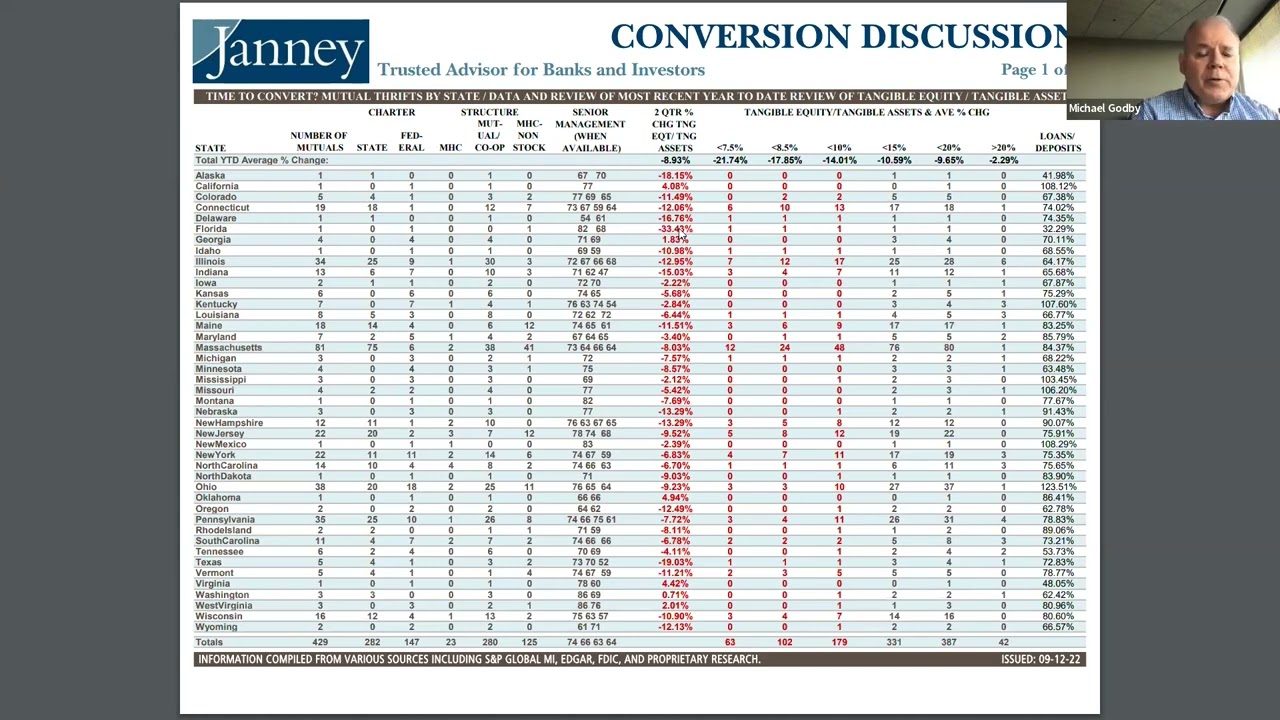 Reid provides strategic general industry and economic advisory, M&A transaction advisory and capital raising services to depository institutional clients in the Southeast.
Topic: Mergers & acquisitions in an age of securities markdowns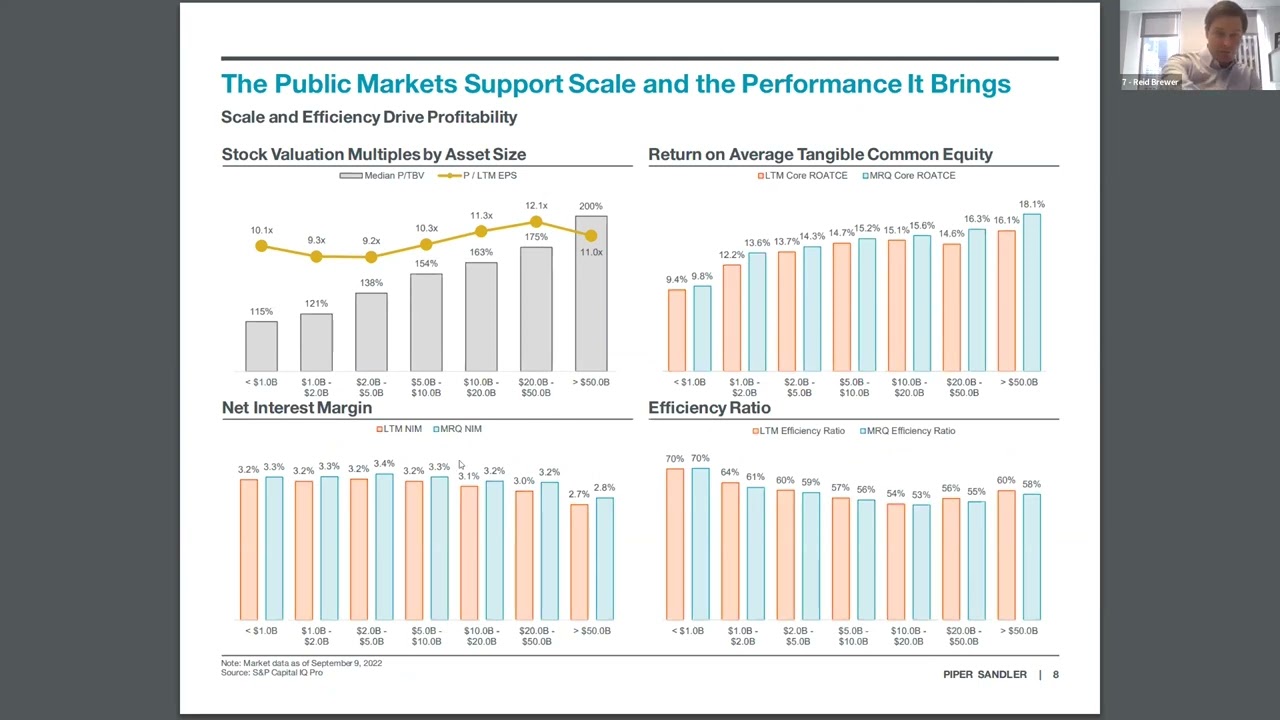 September 2022 Bank Presentations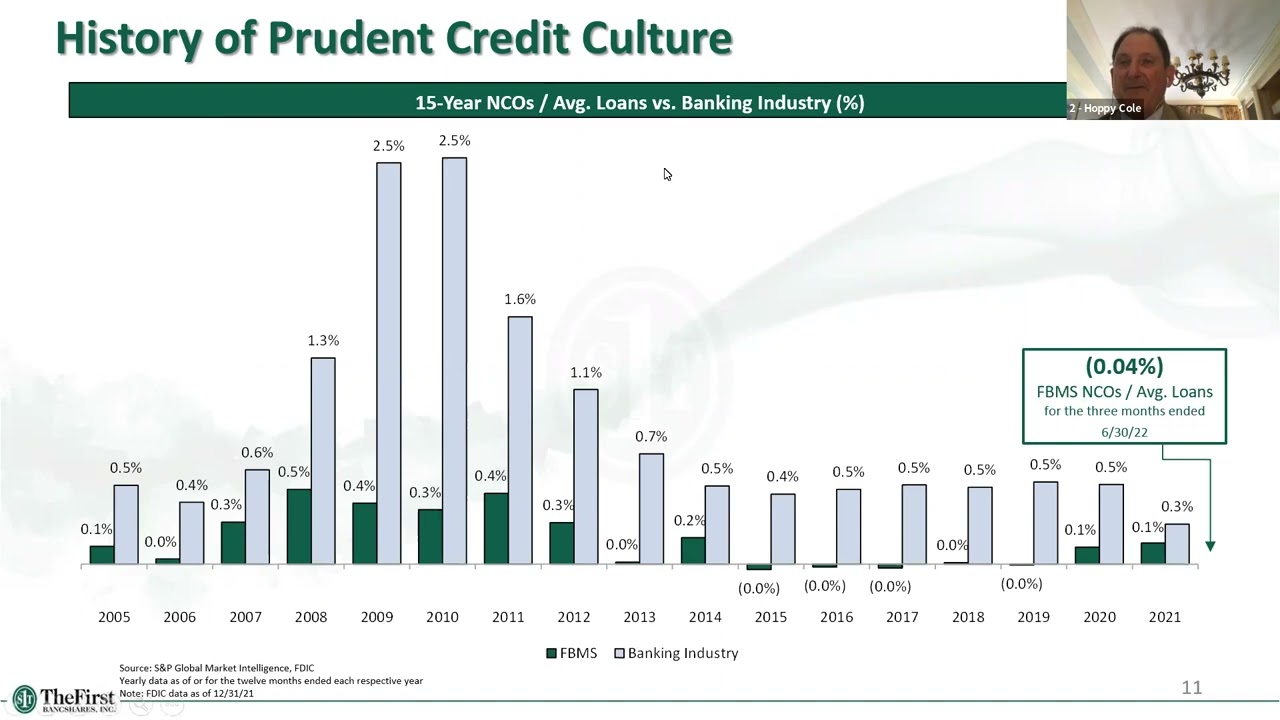 The First Bancshares, Inc.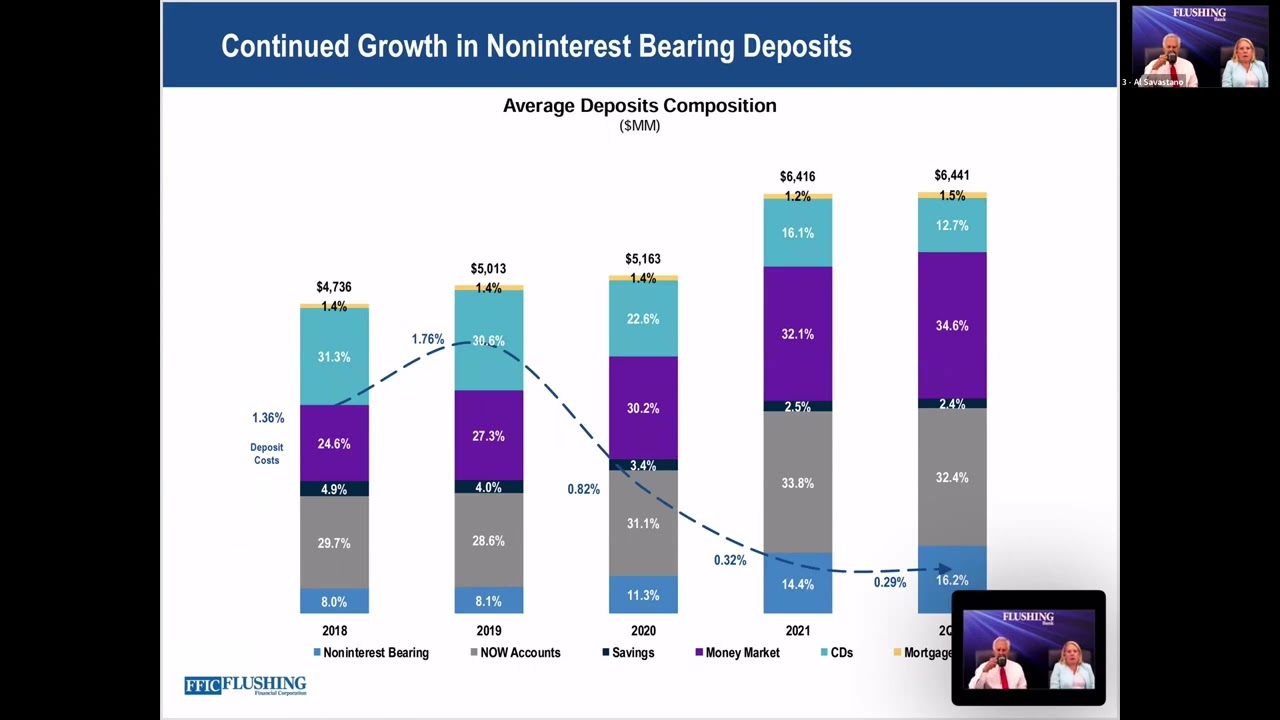 Flushing Financial Corporation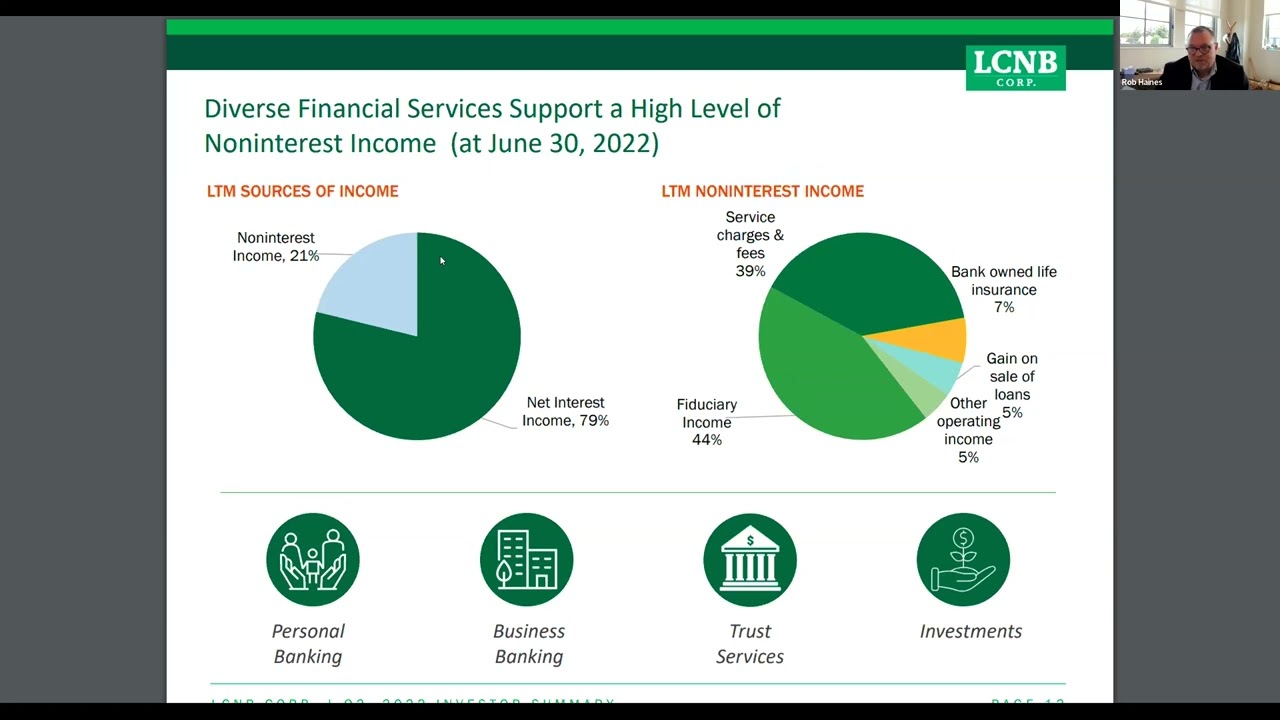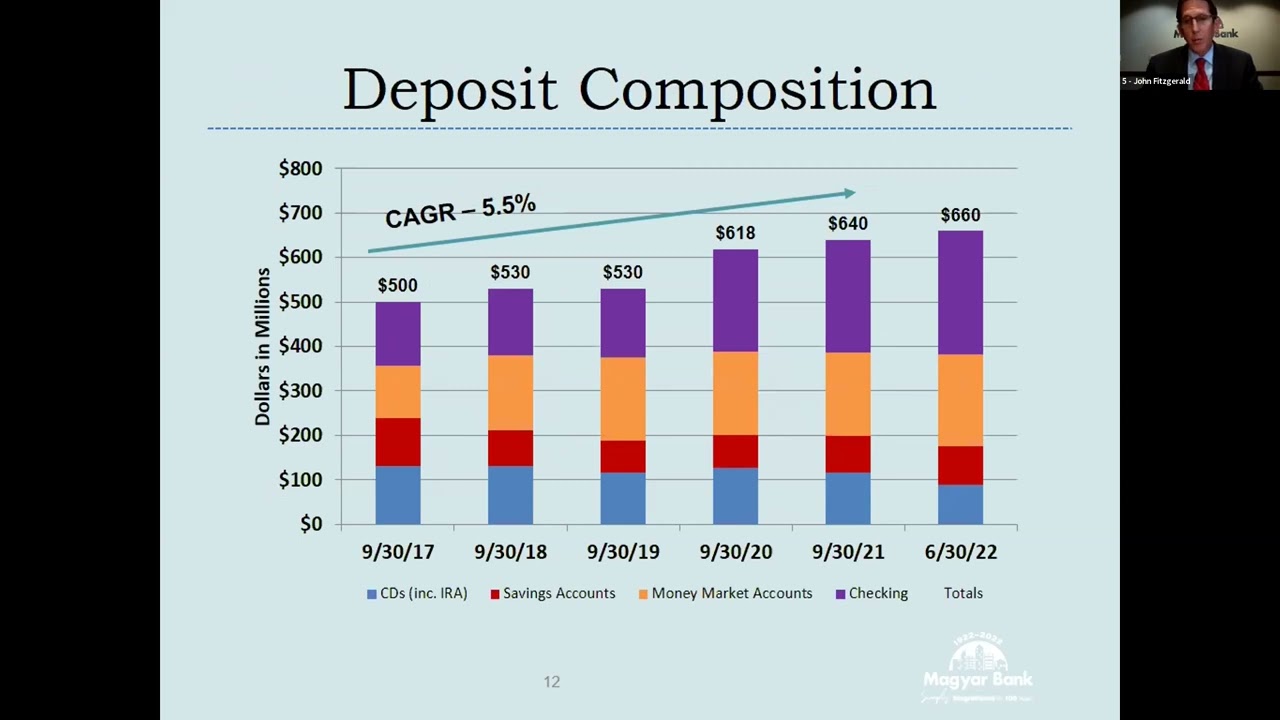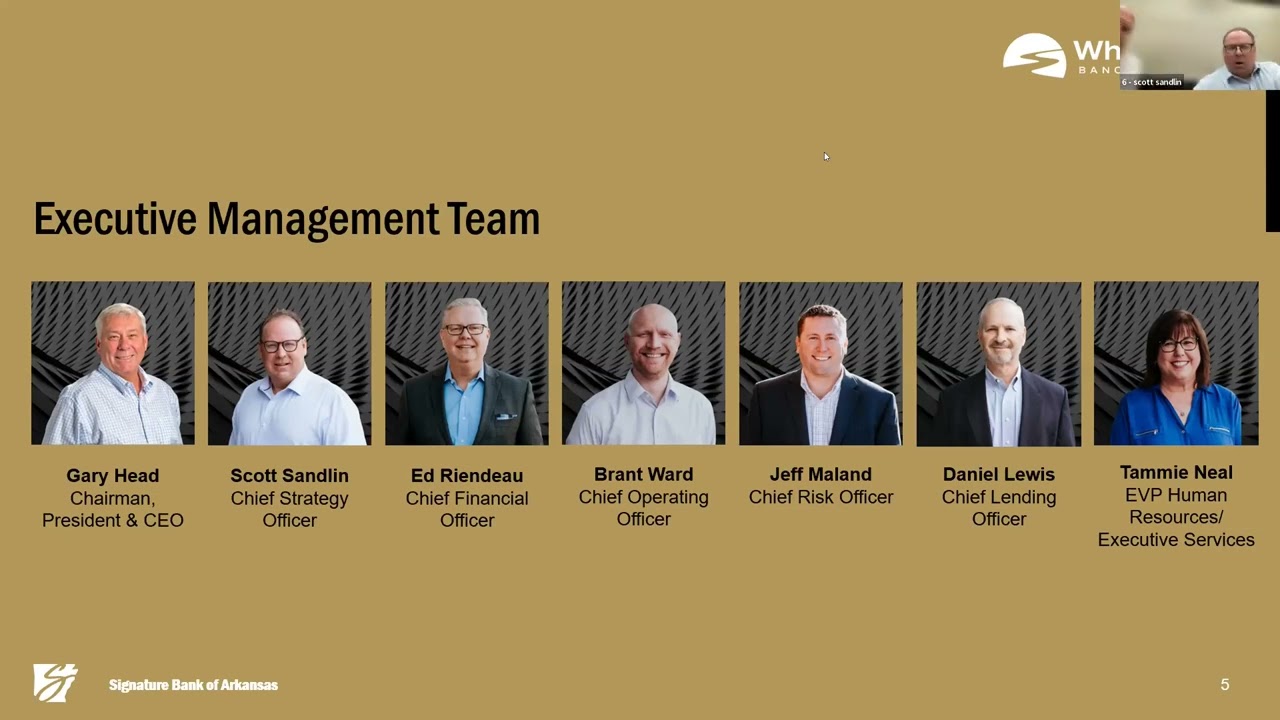 White River Bancshares Co.
Bankwell Financial Group, Inc.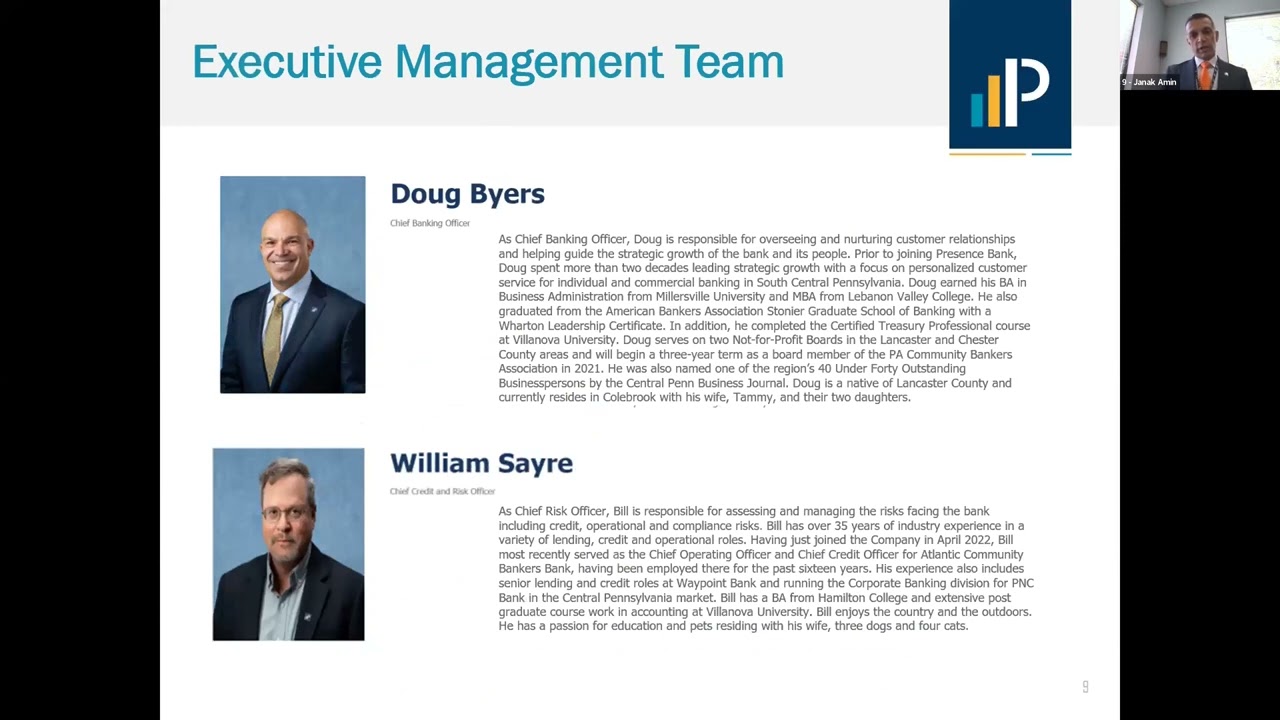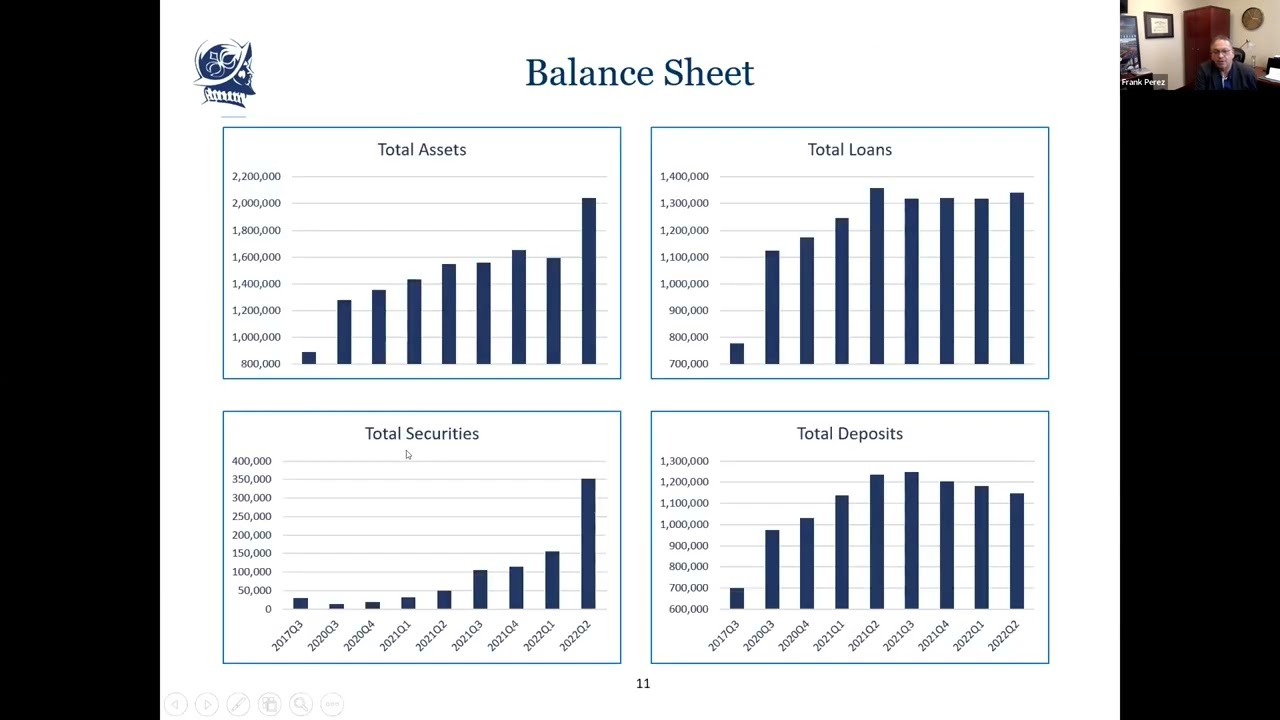 Ponce Financial Group, Inc.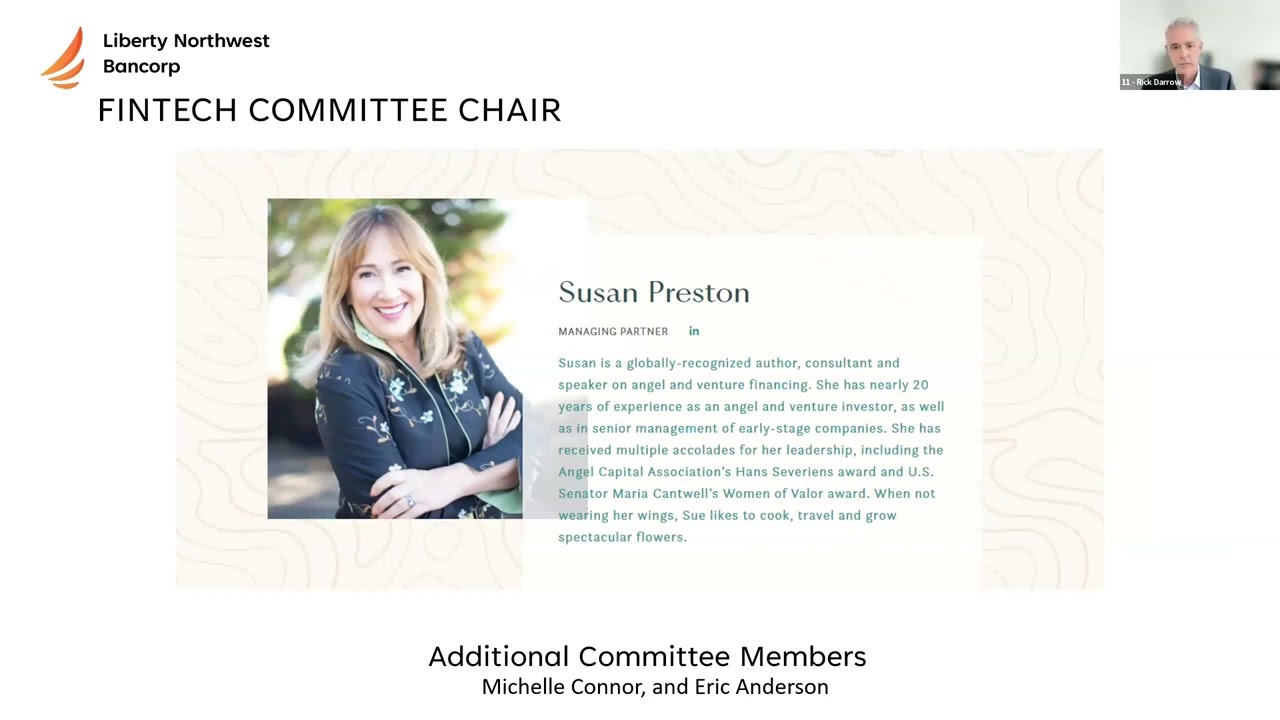 Liberty Northwest Bancorp, Inc.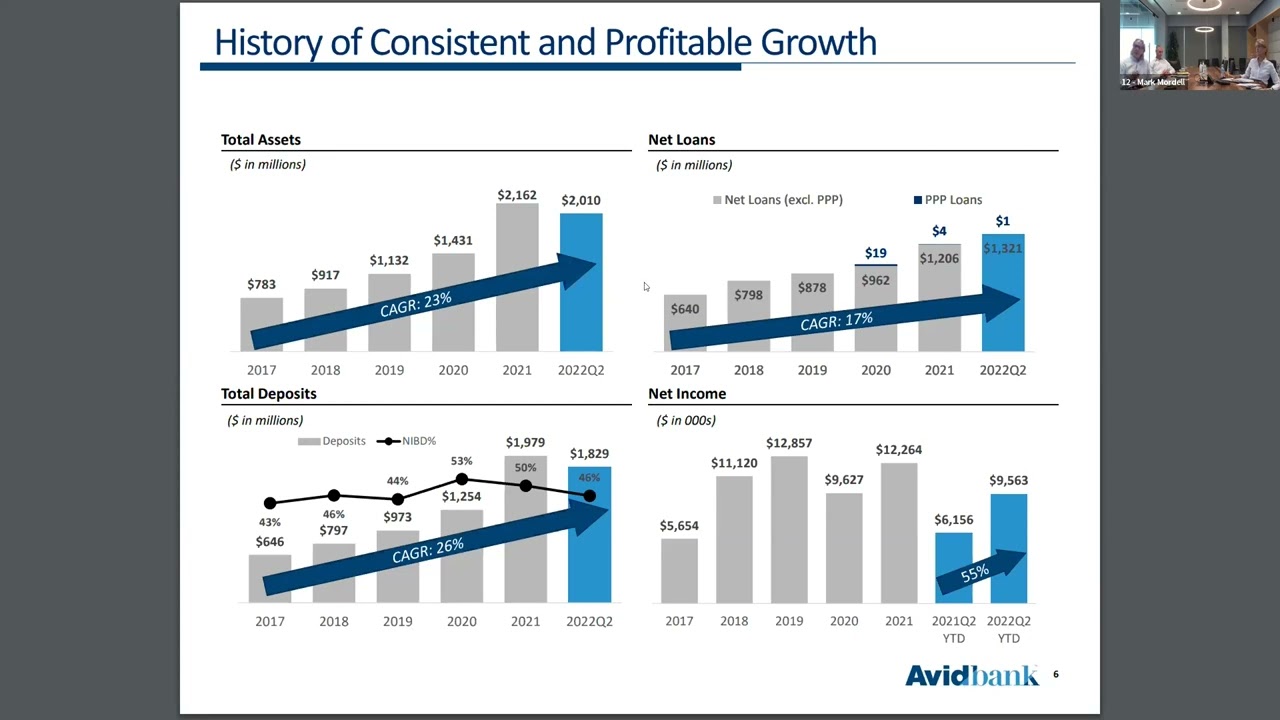 Presenting Banks Overview
Avidbank Holdings, Inc. (AVBH) is a niche-focused west coast bank trading close to tangible book that recently raised capital from several big bank investors with one of them recently joining the Board of Directors.
Bankwell Financial Group, Inc. (BWFG) is a high-performance bank with a valuable deposit franchise in Fairfield County, CT, and a strong board of directors trading at 1.12x tangible book.
The First Bancshares, Inc. (FBMS) acquired Heritage Southeast Bancorporation (HSBI) after HSBI terminated its sale to a credit union; an opportunity for HSBI shareholders to get to know FBMS better.
Flushing Financial (FFIC) is a $6.4B metro-NY deposit franchise trading around TBV with interesting growth initiatives in Fintech and local niche markets.
LCNB Corp. (LCNB) is one of the strongest deposit franchises in one of the strongest midwest markets with one of the strongest dividend yields.
Liberty Northwest Bancorp, Inc. (LBNW) is a de novo bank with a strong deposit base in the attractive Seattle MSA market that just listed its stock on the OTCQX market.
Magyar Bancorp, Inc. (MGYR) is a recent thrift conversion selling at a discount to tangible book just past its 1-year anniversary with a special dividend, regular dividend, and a 5% share repurchase authorization already under its belt.
PB Bankshares (PBBK) is a recent thrift conversion selling well-below TBV that just passed its one-year anniversary with a 10% buyback authorization.
Ponce Financial Group, Inc. (PDLB) - recent 2nd step conversion trading below offer price and below tang book even adjusted for fintech exposure with excess capital and a track record of accretive capital management.
White River Bancshares Co (WRIV) is a growth bank with strong deposits in attractive northern AR market trading at 1x tangible book, an opportunity to get an update on recent investments and growth opportunities in an "under the radar" part of the country.
June 8, 2021 - Under the Radar
June 8, 2021 Conference Agenda
Click On Red Links Below For Recorded Sessions
Introduction
Keynote Speaker: Mike Godby
Philly Area Bank:
William Penn Bancorp (WMPN) - Ken Stephon, President & CEO
Midwest Bank Panel:
FFBW, Inc. (FFBW) - Edward Schaefer, President & CEO
First Savings Financial (FSFG) - Tony Schoen, CFO
Strong Deposit Franchises:
Eagle Bank of Montana (EBMT) - Peter Johnson, President & CEO
Salisbury Bancorp (SAL) - Richard Cantele, President & CEO
White River Bancshares (WRIV) - Scott Sandlin, Chief Strategy Officer
CapStar Financial (CSTR) - Denis Duncan, CFO
East Coast Opportunities:
ES Bancshares (ESBS) - Philip Guarnieri, CEO
Partners Bancorp (PTRS) - Lloyd Harrison, CEO
West Coast Banks:
Bank of San Francisco (BSFO) - Edward Obuchowski, CEO
Riverview Bancorp (RVSB) - David Lam, CFO
SaviBank (SVVB) - Mike Cann, Chairman & CEO
Keynote Speaker: Joey Warmenhoven
Community Banks with Fintech:
First Northwest Bancorp (FNWB) - Matt Deines, President & CEO
Provident Bancorp (PVBC) - Carol Houle, CFO
MHC Panel:
PDL Community Bancorp (PDLB) - Carlos Naudon, President & CEO
Pioneer Bancorp (PBFS) - Tom Amell, President & CEO
Non-Public Emerging Banks:
Liberty Bank (Seattle Area) - Rick Darrow, CEO
New Valley Bank & Trust (Massachusetts) - Jeff Sullivan, CEO
>>
Download June 8 Virtual Bank Conference Data Spreadsheet (PDF)